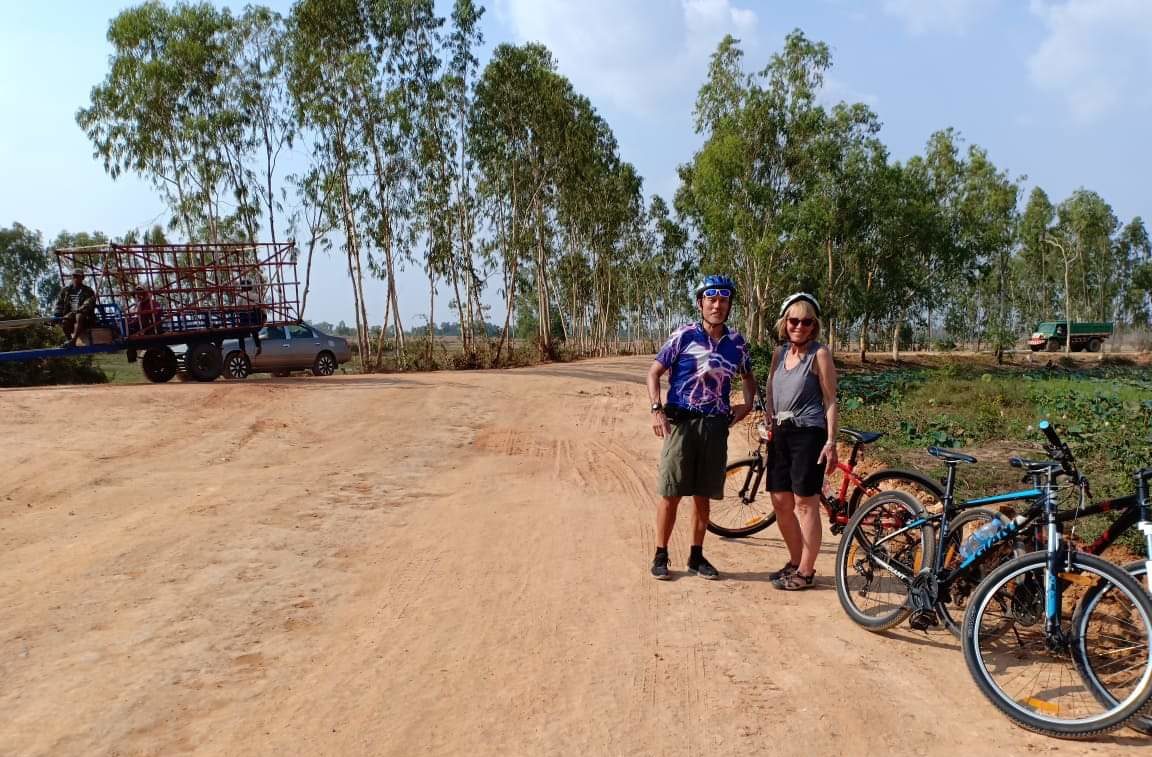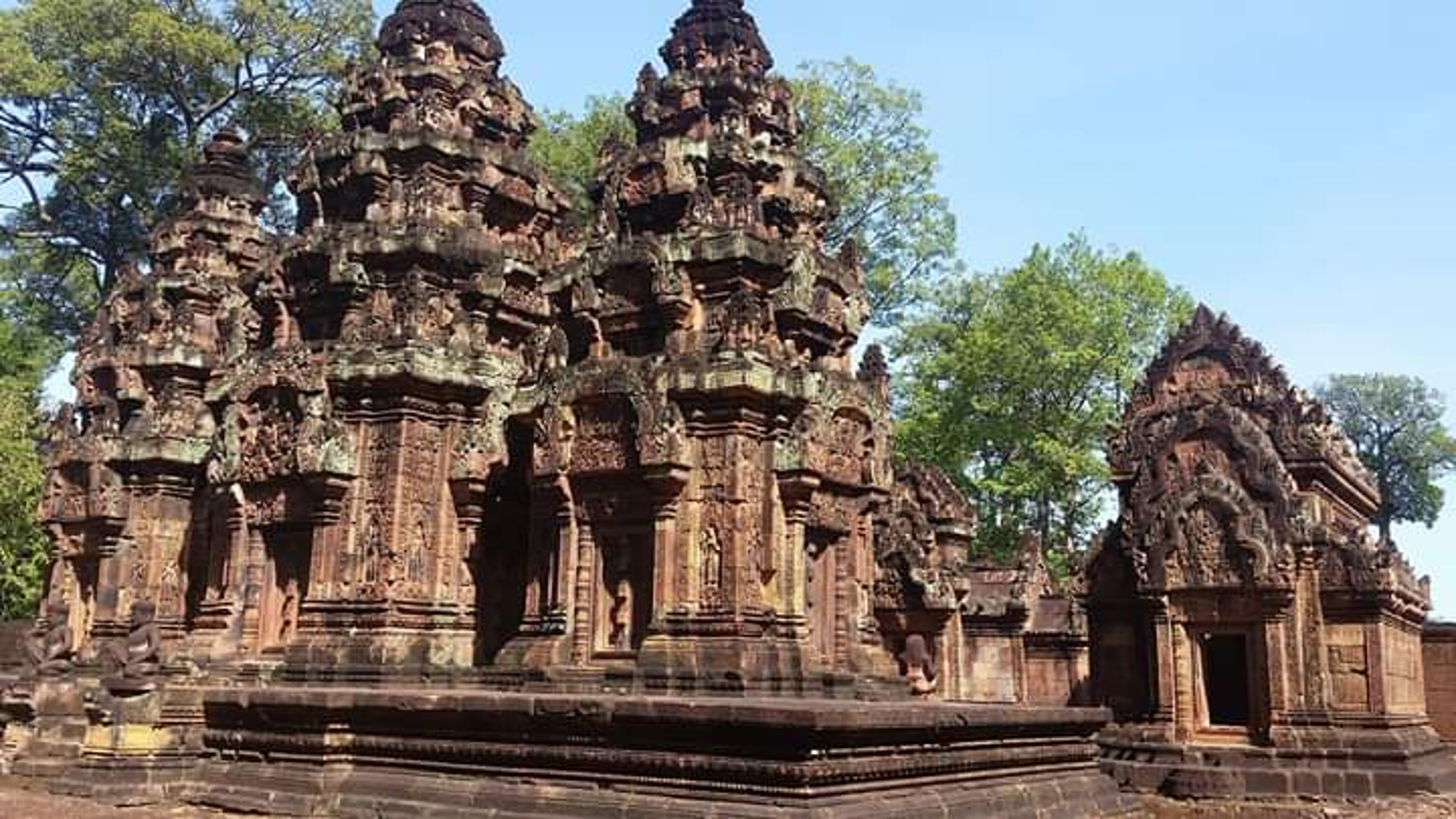 3 Days Bike(Countryside+Banteay Srie Temple+West Baray)
Day 1: Visit the superb countryside 
About This Tour
Location

Countryside

Duration

5(hours)

Tour start

7:30am – 12:30pm

Total distance

20km( Approx)
Please note
The price is per person. Our tour groups size are nice small, from a minimum of 2 to a maximum of 7. We also arrange private tours, these can have custom itineraries for groups of 4 or more. Please kindly contact us to find out more.
Details Complimentary
This a fantastic way of seeing the beautiful countryside outside of the hustle and bustle of Siem Reap town. During your ride, you will be regularly greeted by the friendly villagers as you pass by. This is a different atmosphere, undisturbed by the crowds. Bike around the countryside and see a different side to the Cambodian culture. This is a great opportunity to learn about how rural life in the Cambodian countryside differs from that of Siem Reap town. Pass by the local children going to school, the colorful traditional Khmer style stilt houses and cruise through the rice paddies dotted all around the countryside. This is a ride that can suit every ability level, as your tour guide will adjust the speed and breaks that you will have dependent on your ability. This is a great opportunity to take a break from the busier tourist sites of Siem Reap. You will have the chance to cruise along the red dirt roads of the countryside, with plenty of opportunities to take lots of photos of the picturesque countryside and of the local villages. You will also experience how the locals trade and do business at the local market. As well as visiting Arthvear pagoda, an ancient pagoda placed in idyllic countryside, where you can really see how the monks go about their day to day lives. The ride will begin along Siem Reap river, then out of town through some lovely villages. Take a moment to breathe in the fresh country air, while seeing the vast array of farmland and animals of the Cambodian countryside. The rice paddies are seemingly endless, and the herds of water buffalos and cows are everywhere. During your ride, you will also see many indigenous species of birds flying overhead and settling in the flooded rice paddies. Ride past the villagers while they go about their day to day routine of tending fields, managing livestock and taking some time to relax while doing some fishing. And to top it all off, cycling by the lotus flower fields near Tonle Sap lake. Once you have arrived at the lake, this is a great opportunity to have a drink, relax a little and take some pictures of the gorgeous lake. Once you are refreshed your guide will take you back to the hotel or some places in Siem Reap. 
Day 2: Visit the  unique ping stone temple 10 century(lady temple)
About This Tour
Location

Bateay Srie Temple

Duration

Full-day-tour

Tour start

7:30am – 3:00pm

Total distance

35km( Approx)
Highlights
Beautiful local countryside
Local villages/people
Animals Rice Paddy
Natural surroundings
See Basket Weaving
Banteay Srei Temple
Details Complimentary
We're starting the tour at 7:30 am, directly to buy the ticket at Angkor zone. Ridding through the main Angkor Archaeological Park 20km approaching to Banteay Srei temple. On the way, we gonna enjoy the atmosphere around, water buffaloes busking in the waterhole. Take a rest to see the people weaving the basket, and also creating the sugar palm. Getting to know about scarecrow which is the local superstitious, and how do they using it? 
Banteay Srei Temple, Date: Mid 10th century(967) King: The temple was founded by a Brahmin named Yajnavaraha who was attached to Rajendravarman II. Culture: Hindu(Shiva). The temple was built in Ishvarapura, the city of Lord Shiva. Banteay Srei temple has often been described as a gem of a temple. The images are appropriated as the temple's dimension are quite small and refinement of it's carving reached a level which found no an equivalent in other Khmer temples.
Day 3: Visit a largest reservoir in 11th century
About This Tour
Location

West Baray

Duration

9(hours)

Tour start

7:30am – 3:00pm

Total distance

20->25km( Approx)
Highlights
West Baray or Baray Teuk Thla "clear water Baray" is one of two enormous reservoirs found in the Angkor Archeological Park. West Baray, as the name suggests, is found west of the walled city of Angkor Thom. An identical reservoir was built to the east. Construction began in the 11th century during the reign of King Suryavarman I, and it was completed under King Udayadityavarman II, who also built the Baphuon Temple. Baray in Khmer means reservoir. West Baray is rectangular in shape and measures 7. kilometers by 2.1 kilometers making it, along with East Baray, two of the largest hand-cut reservoirs ever constructed on earth. In West Baray, an artificial island was created called West Mebon on which a Hindu Temple was built. In modern times, a lock was built in the West Baray's southern dike, raising the water level for irrigation south to the rice fields toward Tonle Sap Lake. Today the reservoir retains water in its western end year-round; during the rainy season, water advances to the east completing reaching all four dikes. With clear still waters, West Baray has become a popular place for swimming and boat rides provided by local residents. On occasion, seaplanes have also used the reservoir as an airstrip.
Details Complimentary
West Baray does not require the purchase of a temple pass. Along with our bicycle tour, discover the genuine rural lifestyle of the Cambodia people living in the wonderful and peaceful landscape found just north of Siem Reap. Our cycling begins in the early refreshing beauty of the morning and continues until noon.
In this tour we will be leaving the hotel at 7:30 am and ride to our destination located some 20km from the Siem Reap town
We will stop and visit a typical local market that provides food and a wide variety of vegetables and fruits for daily use by the local people.
We will travel to see this amazing manmade water reservoir located 5km from the Angkor Wat temple.
In addition to visiting West Baray, you come to know well some aspects of the lifestyle of Cambodian people living in the countryside and jungle, and you will have the opportunity to converse with some villagers or with students in the countryside schools.


Included
Professional English speaking tour guide
Modern, high-quality mountain bikes with; large gear sets, disc brakes and good front suspension (Giant).
Helmet
Cool drink & and coconut juice 
Boat fee
Hotel pick up / Drop-off
Not Included
You will need an Angkor Pass for this tour. If you don't already have one, you can purchase one upon entry to the Angkor Zone. 
Please note
that need good shoes and no flip flop if you wish to visit the 3rd floor of Angkor Wat temple, You need to wear long trousers and hide your shoulder.