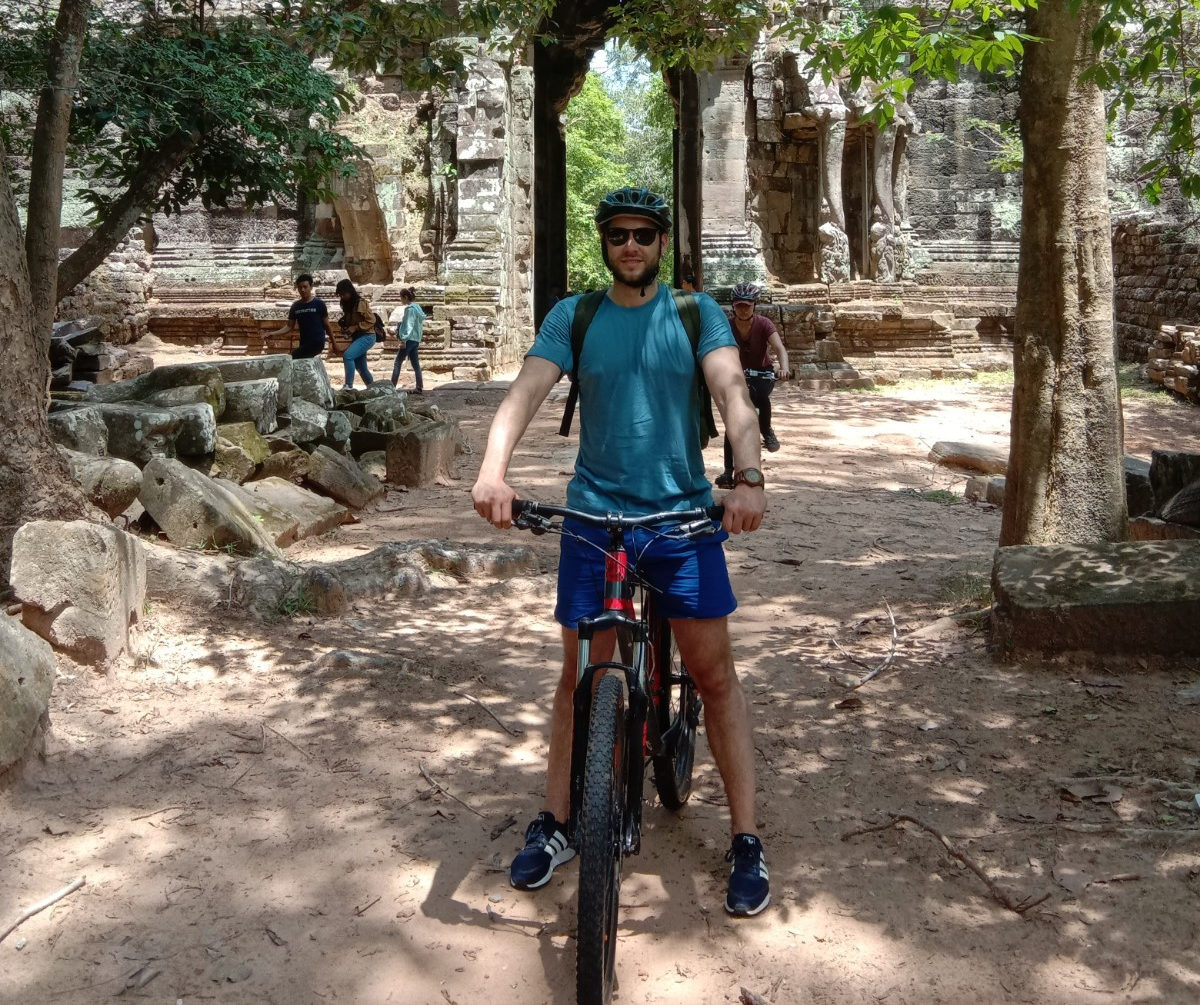 Off the beaten track to Angkor By Bike
About This Tour
Location

Angkor Site

Duration

Half-day-tour

Tour start

7:30am – 12:30pm

Total distance

16km( Approx)
Please note
The price is per person. Our tour groups size are nice small, from a minimum of 2 to a maximum of 7. We also arrange private tours, these can have custom itineraries for groups of 4 or more. Please kindly contact us to find out more.
Details Complimentary
Cycle from the hotel at 7:30 am through the royal residence to the world heritage site. A small path along the Siem Reap's river was a glorious experience to see the locals living as a small business with their daily life. About half an hour in the greatest of the Khmer temples(Angkor Wat). There you will find Khmer art from the 12th century, such beautiful architecture you will hardly believe your eyes. Leaving from the temple cycling across the village to meet the people are living like locals. They're doing farmers in the rainy season and selling local products in the hot season. Cycling 10 minutes to Angkor Thom city a short stop at the south gate to capturing the great statue of the gods and demons, 108 statues have adorned causeway. Off-road cycling on the rampart of Angkor Thom city to explore the hidden gem temple call "Prasat Chrung". Keeping cycling to northside to see the execution gate where we use to kill the prisoner in ancient times. We can access to there only by bike. Continue to the King temple which was the last temple of the King(Bayon).  Exit on the ghost gate by the 0ff-beaten track to visit the hidden temple in the forest(Tanie Temple). There will be time to take a break, and then we shall keep going to see an amazing view of Ta Prohm, left as it was discovered. Kapok trees clasp the sanctuaries with their mighty roots. After Ta Prom, we will take a moment to visit the ancient Sras Srang lake. Back to the hotel like a local by Romork Khmer(Tuk Tuk).
Included
Professional English speaking tour guide
Modern, high-quality mountain bikes with; large gear sets, disc brakes and good front suspension (Giant).
Helmet
Cool drink and coconut juice
Hotel pick up / Drop-off
Not Included
You will need an Angkor Pass for this tour. If you don't already have one, you can purchase one upon entry to the Angkor Zone.
Please note
that need good shoes and no flip flop if you wish to visit the 3rd floor of Angkor Wat temple, You need to wear long trousers and hide your shoulder.