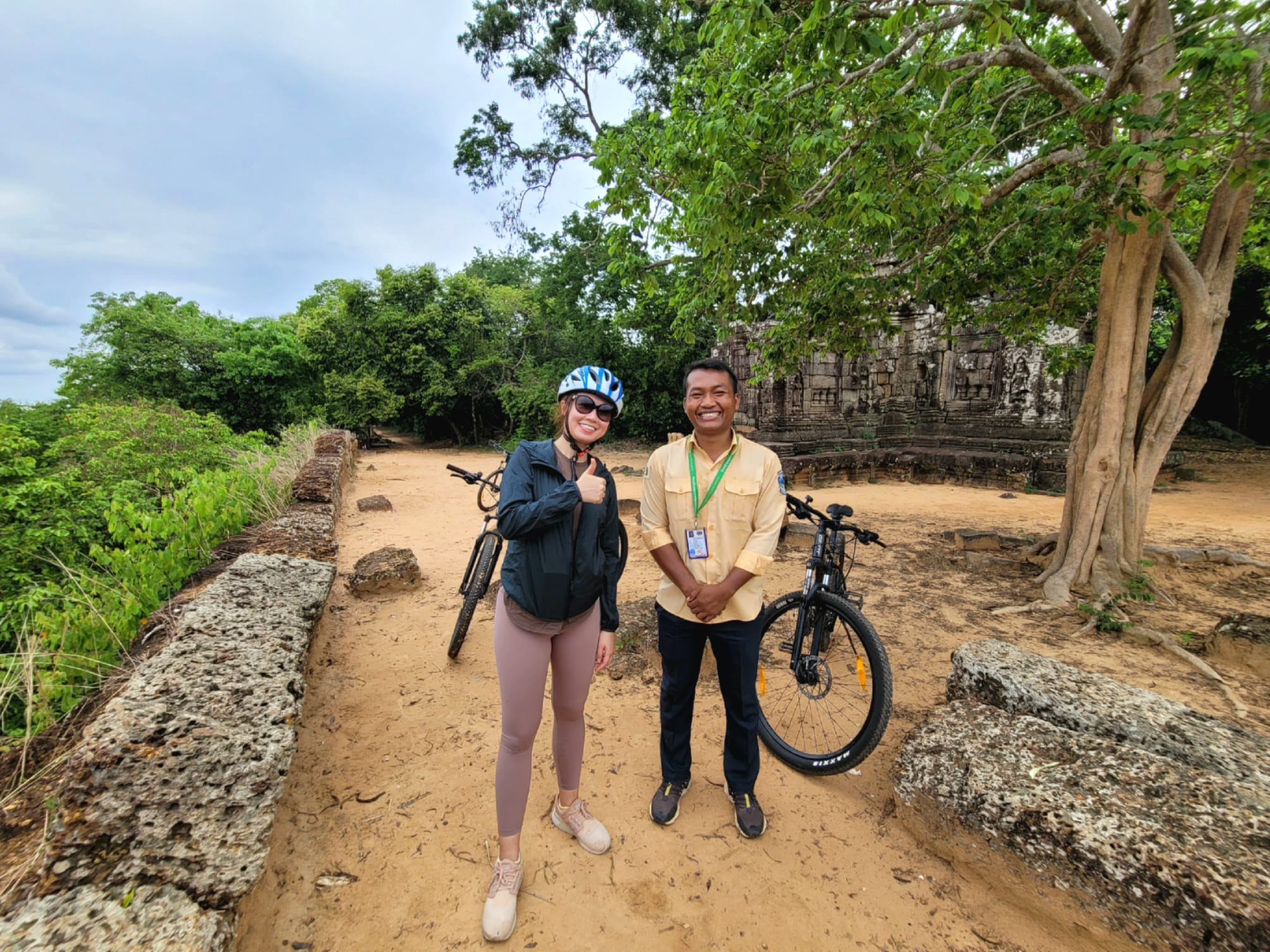 Day 1: Visit The Spectacular Temples In Angkor Archaeological Park
About This Tour
Location

Angkor small Circuit

Duration

Full-day-tour

Tour start

8:30am – 4:00pm

Total distance

25km( Approx)
Please note
The price is per person. Our tour group's size is nicely small, from a minimum of 2 to a maximum of 7. We also arrange private tours, these can have custom itineraries for groups of 4 or more. Please kindly contact us to find out more.
Highlights
See majestic Angkor Wat, the masterpiece of the Khmer empire.
Visit the jungle temple, Ta Prom, where trees intertwine their trunks with ancient ruins.
Visit antique reservoir Sras Srang lake.
Ta Nei temple which is the hidden gem temple
Visit the east gate of Angkor Thom
Experience the beauty of the Terrance of Leper Kings and the Terrace of the Elephants.
See the magnificent smiling stone heads of the Bayon temple.
Details Complimentary
8:00 am: Our guide and driver will pick you up from your hotel lobby by tuk-tuk or car to the main temple Angkor wat, considered to be the greatest of the Khmer temple. There you will find Khmer art which reached the height of its glory in the 12 century.
10:00 am: Start your cycling and go to see an amazing view of Ta Prohm, left as it was discovered. A spectacular root tree and a Hollywood movie were filmed here as it calls Tomb raider by Angelina Jolie.
11:30 am. Take a break to have a wonderful lunch at the local restaurant.
1:00 pm: Next, cycling to visible the hidden gem in the trail to see the ruined temple in the jungle one that many tourists can't see "Ta Nei Temple".
2:00 pm: Then go to the east gate of Angkor Thom and visit the Bayon temple which is the stone facing of Avalokiteshvara and the state temple of the Mahayana Buddhist King Jayavarman VII. The tour then takes us to the Terrace of Elephants the main terrace the KIng sits on to observe the training of elephants.
3:00 pm
: End of the tour, we'll serve you delicious locally grown fruit and take you back to your accommodation in a tuk-tuk
Show More