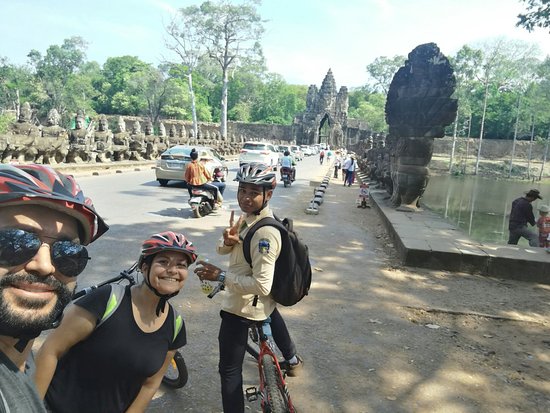 Angkor Sunrise Bike Tour
About This Tour
Location

Angkor small Circuit

Duration

Full-day-tour

Tour start

4:30am – 2:00pm

Total distance

25km( Approx)
Please note
The price is per person. Our tour group size is nice and small, from a minimum of 2 to a maximum of 7. We also arrange private tours, these can have custom itineraries for groups of 4 or more. Please kindly contact us to find out more. If you don't want to get up early, please check
this tour
Highlights
Enjoy the back road scenic surroundings of Siem Reap on your way to see the different sides of the majestic Angkor temples complex. Your experienced professional tour guide will lead the way and share temple history.
See majestic Angkor Wat, Considered the masterpiece of the entire Khmer empire, And capture the quintessential shots at sunrise.
Visit the south gate of Angkor Thom And See the magnificent smiling stone heads of the Bayon temple
Experience the beauty of the Terrance of Leper Kings and the Terrace of the Elephants
Visit the jungle temple, Ta Prom, where trees intertwine their trunks with ancient ruins.
Visit antique reservoir call " Sras Srang lake ".
Tours are limited to 7 participants to ensure small groups
Tours are led by our English-speaking guide, who was born and raised in Siem Reap and knows well the city and its surroundings.
Details Complimentary
On this tour, we will leave your hotel at 4:30 am to buy the (for sunrise), we will forwarding to the 
ticket booth
to buy the ticket for visiting the temple if our values have done that cause. Picked up by car or Tuk Tuk. Our tour guide will accompany you inside the temple to get a good place for sunrise and provide an in-depth narrative of the history and significance of this site (1:30h – 2h). Riding in the opposite way, in order to avoid the crowds, we head for the next temple, Ta Phrom, where we will rest among the giant trees engulfing the temple. After walking around this mysterious site, we will continue to ride to see a massive gate of Angkor Thom city ( victory gate ) where you will learn more about the history of the Angkor civilization and spend some time taking some wonderful photos as we climb the rampart to see a great statue of faces and rainforest around. It will then be time to ride into the city, getting a better sense of this wonderful city that was built in the late 12 century. Here we have a good lunch in a local restaurant to taste some traditional Khmer foods. We go next to explore the faces of the temple Bayon, learning more about the king's background, people's daily routines, military scene and learn the ingenious methods of the Khmer builders. Back home we go, and enjoy the ride of about 12 km with family and friends, taking photos with a monkey and see contemporary painters at their easels along the way.
Included
Professional English speaking tour guide
Modern, high-quality mountain bikes with; large gear sets, disc brakes, and good front suspension. (Giant).
Helmet
Bottle water
Lunch
Hotel picks up / Drop-off
Please note
that need good shoes and no flip flop if you wish to visit the 3rd floor of Angkor Wat temple, You need to wear long trousers and hide your shoulder.