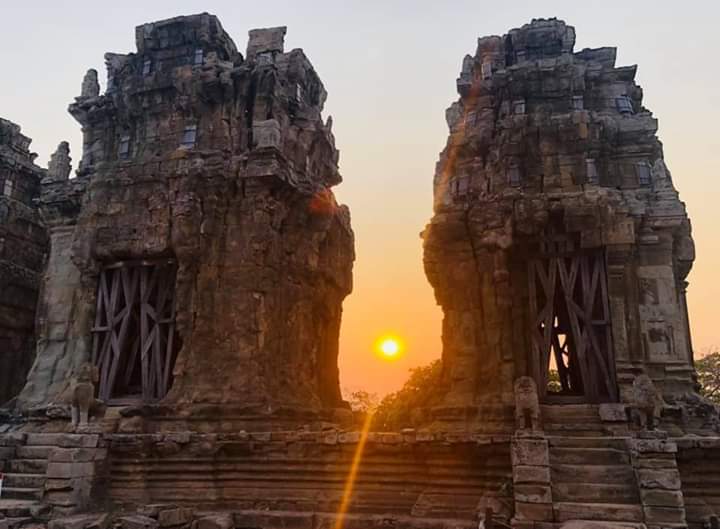 Phnom Krom for Sunset Cycling Tour
About This Tour
Location

Phnom Krom Mountain

Duration

4:00 hours

Tour start

2:30 pm

Total distance

20km-23km( Approx)
Please note
The price is per person. Our tour group size is nice and small, from a minimum of 2 to a maximum of 7. We also arrange private tours, these can have custom itineraries for groups of 4 or more. Please kindly contact us to find out more. If you would like to see temples, please check
this tour 
Destination To Visible
Local Market &Local Schoo
Green rice-paddy and farmers
Ancient Pagoda(The Khmer empire temple call Wat Chedei )
Lotus farm(The Lotus Farm is a unique workshop in the world. It aims to present in detail though in an entertaining manner, the exceptional production of the most ecological fabric made from lotus fiber)
Local hand-products(Cambodia Basket)
Sunset at Krom Mountain
Details Complimentary
Leave your hotel at 2:30 pm ride through to see a local market where you could see all the products in on the ground and continue to the mountain where is our destination and will be finished after sunset. Have a local snack on the way back like the baby duck egg, fruit shake, and dessert.
On the way we ridding, our knowledgeable guide will describe you to understand about the attractive lifestyle of Cambodian people living in that area and also have the opportunity to meet and speak with the villagers and students in the local schools. Moreover, you will have the chance to get beautiful photos with a lotus field, green rice-paddy, and farmers.
We will lead you to see a beautiful landscape at the low land area and a great sunset on the top of Phnom Krom mountain which was located some 14km from the Seim reap town.
Included
Professional English speaking tour guide
Modern, high-quality mountain bikes with; large gear sets, disc brakes, and good front suspension. (Giant).
Helmet
Cool drink & refreshing towel and coconut juice
Hotel picks up / Drop-off